Not a beaty treatment, acupressure massage, or chiropractic session, Sekaie's Original Conditioning finds the causes of pain and unwellness from your posture, habits, and body movements and provides conditioning for body and mind.
Conditioning is a treatment to draw out the optimum conditions through relaxation methods and exercise therapy tailored to your physical and mental state following a consultation on chronic unwellness such as fatigue based on lifestyle and preexisting conditions.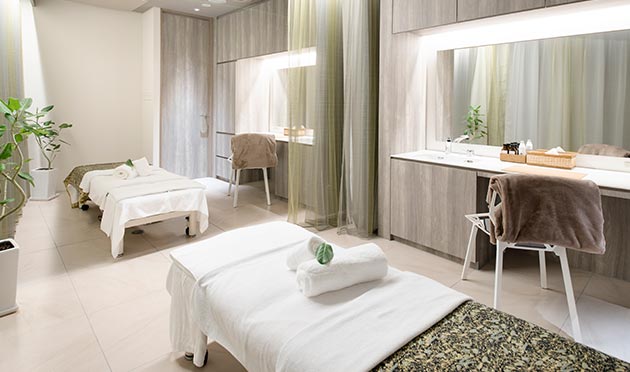 【Price】

60 minutes ¥12,100
90 minutes ¥16,500
120 minutes ¥22,000

Foot conditioning

60 minutes ¥12,100
The treatment is applied from the sole to just below knee using creams and oils.
【Disclaimer】

This program is provided by professional staff.
We also offer another program, Finest Conditioning by Naoya Yashiro.
【Book a program】

Please ask in advance.
Contact by Tel

Small Luxury Resort Reservation Center

Tel :

0570-0117-22




( domestic calls only, Navi Dial charges apply, hours: 10am-20pm )
Contact by Email

Please mention the "the program" in the Email.

Contact Mail
Finest Conditioning Program by Yashiro Naoya
【What Is Finest Conditioning?】
Finest Conditioning is an original conditioning treatment offered by Sekaie based on its experience managing the physical condition of numerous athletes. The treatment discerns the physical and mental conditions of customers from their posture, habits, and body movements.
Following a consultation on your lifestyle, fatigue level, and preexisting conditions, we apply relaxation methods, exercise therapy, etc. according to your physical and mental state to draw out the optimum conditions.
If you are regularly under stress or feeling unwell, Finest Conditioning may be your answer.
【Recommended for those who:】
have stiff shoulders or lower back pain.
have a sleeping disorder.
want to improve immunity.
want to lose weight.
want to heal daily fatigue.
【Point】
Private Conditioning provides different types of treatments to best fit the condition of the person (the treatment is provided in the guestroom). It also proposes home exercise programs tailored to the physical condition of guests.
Treatment Flow
Flow of Treatment
The lifestyle consultation.

Checking condition of pelvis, joints, and muscles.

Stretching, flexibility exercises, and correction of pelvis.

Correct movements of muscles will be restored through gentle exercise.

Weary body will be healed from inside.

Treatment to maintain functions of internal organs such as intestine and stomach.

Treatment is completed with advice on correct posture and diet.
【Price】

60 minutes ¥19,800




90 minutes ¥27,500


※Only by advance reservation
【Trainer】
Naoya Yashiro

八代 直也

Trainer for Finest Conditioning

Our trainer provides conditioning to about 1,500 athletes from elementary school students to professional athletes every year. They provide guidance on everything for maintaining the best condition, from meals adjusted to physical and mental condition to body movement.
【Book a program】

Please ask in advance.
Contact by Tel

Small Luxury Resort Reservation Center

Tel :

0570-0117-22




( domestic calls only, Navi Dial charges apply, hours: 10am-20pm )
Contact by Email

Please mention the "the program" in the Email.

Contact Mail
【For more information, please see the relevant pages. 】